Miroil Filter Bags for All Uses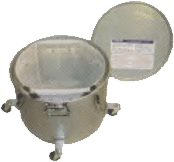 Miroil's washable and reusable range of filter bags have long been regarded as the superior quality frying oil filtration medium available worldwide in providing efficient and safe filtering.
Miroil's Filters can be used either with or without a filtering machine and improve the performance of all portable and built-in filtration systems.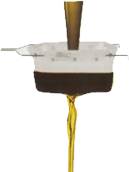 Manufactured from polyethylene polymer and conforming to Chapter 21 of the US Code for Food Safe and Compatible Materials, unlike paper filters, which can leak chemicals into the oil, no similar effect has been detected in rigorous testing of this material.

Apart from the cost benefits of using Miroil 's, washable and reusable filters compared with paper, they also provide for greater filter area for oil flow and oil can be filtered at bath water temperature. Cleaning only requires hot water with a non-detergent spray after use.

Standard Miroil reusable filter bags are available in the following sizes.
Other sizes are available on request.
EZ Flow Pre Filters for hand and machine filtering

| Filter Ref. | RB6P | FM1812B | MRB3PS | D44 |
| --- | --- | --- | --- | --- |
| Length mm | 275 | 400 | 275 | 237 |
| Width mm | 256 | 225 | 187 | 275 |
| Depth rnm | 187 | 212 | 150 | 197 |
| Frame | BF1A | FM919 | BF2A | DF3A |
| Suit Machine | Moffat | Frymaster | DOM40 | Hand |
| Price | $65.00 | $120.00 | $70.00 | $60.00 |
Oil Polishing Filters

| Filter Ref. | RB5F | RB22FS | RB333 | SKIM4 | CONE2 |
| --- | --- | --- | --- | --- | --- |
| Length mm | 275 | 275 | 250 | 175 | 175 |
| Width mm | 225 | 225 | 225 | 187 | 237 |
| Depth rnm | 187 | 150 | 150 | 150 | 237 |
| Frame | BF1A | BF1A | DF3A | SK4 | KB |
| Suit Machine | | | | | Hand |
| Price | $65.00 | $60.00 | $60.00 | $50.00 | $40.00 |